It's our last day of exploring the Greek Isles, so I'll once again keep this brief. If you haven't visited, I highly recommend a trip to Crete, a simply magnificent island with friendly people, gorgeous land/seascapes and lots to do and see. Oh and the seafood isn't too shabby either!
Looking at the big picture this week, I can't help but be struck by the recent string of economic data, which has come in weaker, in some cases, much weaker than expected.
For example, April's durable goods report was just plain bad. This follows Thursday's PPI data that also surprised to the downside. JPMorgan economists wrote that when they combine this data with last week's crummy retail sales report, they conclude that second quarter activity is, "sharply downshifting from the first quarter pace." The JPM team wrote that they now see much slower second-quarter growth of just 1%, which is down from their prior forecast of 2.25% and a far cry from the 3.2% GDP print from the first quarter.
Next up, it is worth noting that the Atlanta Fed's GDP Now tracker has also fallen hard lately. While this real-time analysis of GDP growth tends to be fairly volatile, the WSJ tells us the projection now stands at 1.3%.
Not surprisingly, Treasury yields moved hard on the news. In fact, the yield on the 10-year dropped to new lows for the year and to levels not seen since 2017. Thus, it is easy to argue that both yields and bond traders have renewed concerns about the state of the economy.
If you then factor in the ideas that (a) the Fed says they aren't really looking at a rate cut anytime soon (nor should they be in my humble opinion) and (b) the ongoing trade concerns, one can't be blamed for feeling a bit down about the outlook for both the economy and the stock market.
However, my final thought on this fine morning on the Agean sea is that this is exactly the type of sentiment that tends to be seen during corrective phases. While I still believe that the current sloppy period will likely wind up in "pause that refreshes" category, it certainly feels like the path of least resistance is down. And with the S&P's 200-day just below, I would not at all be surprised to see this level tested a time or two before the bulls regain their footing.
Disclosures
At the time of publication, Mr. Moenning held long positions in the following securities mentioned: None – Note that positions may change at any time.
Thought For The Day:
There is a difference between knowing the path and walking the path. -Morpheus
All the best,
David D. Moenning
Chief Investment Officer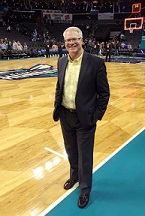 Disclosures
At the time of publication, Mr. Moenning and/or Redwood Wealth Management, LLC held long positions in the following securities mentioned: None
Note that positions may change at any time.
---
Disclosures
NOT INVESTMENT ADVICE. The opinions and forecasts expressed herein are those of Mr. David Moenning and may not actually come to pass. Mr. Moenning's opinions and viewpoints regarding the future of the markets should not be construed as investment recommendations. The analysis and information in this report is for informational purposes only. No part of the material presented in this report is intended as an investment recommendation or investment advice. Neither the information nor any opinion expressed constitutes a solicitation to purchase or sell securities or any investment program.
Any investment decisions must in all cases be made by the reader or by his or her investment adviser. Do NOT ever purchase any security without doing sufficient research. There is no guarantee that the investment objectives outlined will actually come to pass. All opinions expressed herein are subject to change without notice. Neither the editor, employees, nor any of their affiliates shall have any liability for any loss sustained by anyone who has relied on the information provided.
Mr. Moenning may at times have positions in the securities referred to and may make purchases or sales of these securities while publications are in circulation. Positions may change at any time.
The analysis provided is based on both technical and fundamental research and is provided "as is" without warranty of any kind, either expressed or implied. Although the information contained is derived from sources which are believed to be reliable, they cannot be guaranteed.
Investments in equities carry an inherent element of risk including the potential for significant loss of principal. Past performance is not an indication of future results.